LITTELL Since 1918
The legacy in the design and manufacturing of machinery for the metal stamping industry began simply in 1918; a man's dream of excellence working hard out of the 15 x 17 foot garage behind his home. Frederick J. Littell knew the metal stamping industry needed effective means for feeding metal stock from coils and believed he could provide that means by building excellence and quality into the products that came out of his shop. This is the vision that founded an organization which, for nearly 100 years, has provided the metal stamping industry advanced, precision-built solutions for coil processing and handling. With a strong focus on safety and reliability, Littell's products gave workers in metals stamping plants more confidence in handling the large, often dangerous coils of material.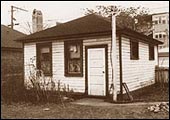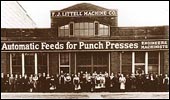 Littell continued to grow in size and capabilities, along the way developing many of the technologies and processes commonly used today in the metalworking industry. Among these innovations are the zig-zag feed, coil-to-coil welding; and the scroll sheeting systems for the container and tinplate industries.

Meeting Our Quality Objectives and Delivery Needs
Old-fashioned family values, a dream, and hard work define Littell's beginnings. Investment, skills, experience and people continue to mold our future. Today the name Littell is synonymous with innovation, high quality and durability in coil handling. Littell, along with our partner, Perfecto Industries, designs and builds high quality products and systems for a variety of metal stamping and forming related industries. Among these are uncoilers, straighteners, feeds and accessories for press room and coil processing operations, as well as high speed cut-to-length and scroll sheeting systems for the can and container producing industry. We continue to provide customer service and support for these systems worldwide.
Littell's facility provides an ideal environment for the wide range of services.
This factory gives us ample space for simultaneous construction of several large, fully integrated systems, as well as a wide range of standardized and stand-alone equipment all in a pleasant and safe environment for customers to conduct acceptance tests, and to participate in our comprehensive training classes. By providing such an environment, Littell remains a cut above the competition.
The layout of our facility caters well to our needs. The office area is arranged for engineering, sales, management information systems, aftermarket service, finance, accounting and general office support. Our factory includes bridge crane services throughout, recessed and drive through loading docks, a fabrication area complete with a full welding and sheet metal shop, and a highly productive machine shop.
Meeting Our Quality Objectives and Delivery Needs.
The combined engineering and design talent present at Littell is among the best in the world. Littell is a leader in the engineering and implementation of innovative ideas for automated material handling. Utilizing the latest in computer aided design equipment, our engineers combine their knowledge and skills to provide the metal packaging industry with the highest level of engineered safety and reliability available today and tomorrow.